1976 Seiko 6105-8110 150m Sport Diver "Capt. Willard"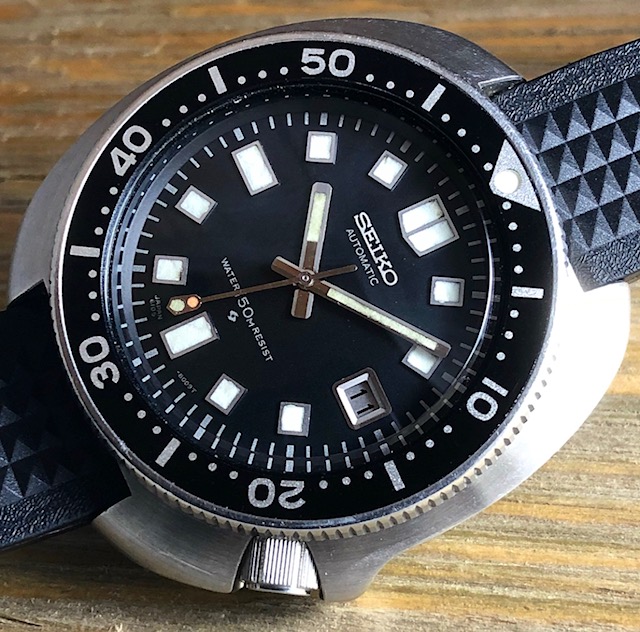 1976 Seiko 6105-8110 150m Sport Diver "Capt. Willard"
Few Seiko Divers are as sought after as the 6105-8110/9. Whether due to a cameo appearance in the film 'Apocalypse Now,' where it sits prominently on the wrist of Capt. Willard, played by Martin Sheen, or for the fact that there are so many modern interpretations and homages to this historic timepiece, there's no denying that its truly an icon. Whatever the motivation, owning an original example is in most circumstances, easier said than done. That's why we're proud to offer this absolutely stunning example from July of 1976. Other than a replacement crystal and strap, it's completely original, and unbelievably well preserved. The matte black dial is perfect, and the original luminous material has developed a slight and even patina. The polished baton hands have aged beautifully, and a bright pink dot still graces the tip of the "stop light" sweep seconds. The original bezel insert is flawless with no marring or missing paint, and the pip at zero has the perfect touch of patina behind the acrylic lens. The case is unpolished, and also near perfect with the factory finishes still clearly visible. The name of the original owner is engraved on the back of the case, and aside from that, there is very little evidence it was ever worn at all. The hacking 6105B is keeping near perfect time post service, and is ready for many more years of dependable wear. If you've been waiting for the right opportunity to own this storied Seiko.... This. Is. It.
Uncle Seiko 19mm "Waffle" Reproduction in Black Rubber (uncleseiko.com)
Serviced 3/1/18
sold out