1972 Seiko 6138-0017 Automatic Chronograph UFO / "Yachtman"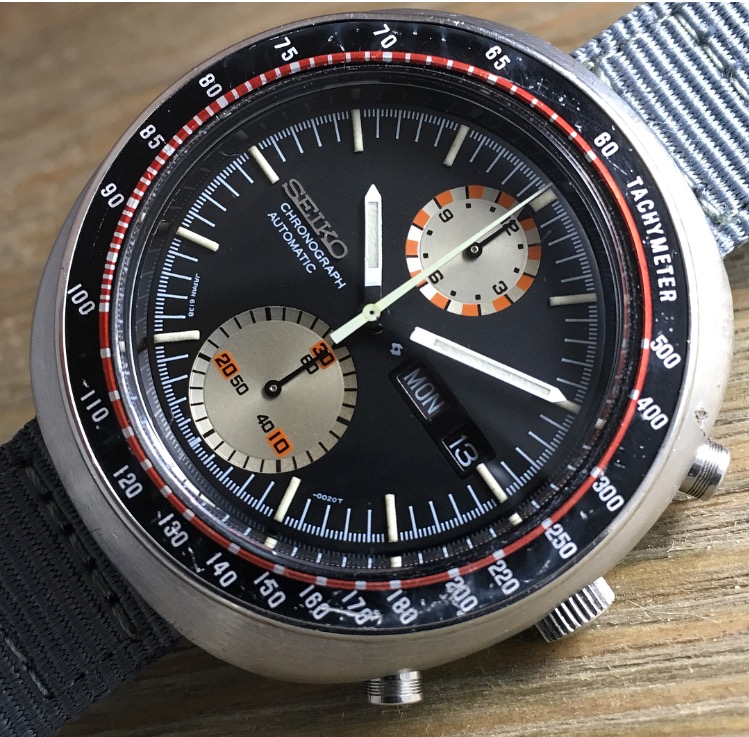 1972 Seiko 6138-0017 Automatic Chronograph UFO / "Yachtman"
The term "Yachtman" appears to have been of questionable origin as it pertains to this particular chronograph, and clearly because it looks right at home trackside, far from any body of water suitable for yachting. Without a doubt, the 6138-0011 and its Speed Timer counterpart are 1970's racing for the wrist. The case is a beastly 44.5mm of sloping contours and smooth case lines. The bezel is the standout feature here in black with a fiery metallic red inner track scaling the tachymeter. Beneath it the dial is a flat black off set by opposing sub registers in matte silver. The larger of the two counting minutes, and it's smaller partner above tracking hours. The hour and minute hands are contrasted in a bright white, and sweeping around the dial, the long and slender seconds hand. The 6138 offers independent quick set of both the day and date, and can be manually wound. The chronograph functions are crisp and responsive and after service, its keeping near perfect time. We've paired this stunner from April of '74 with a slate gray two-piece NATO with PVD hardware in keeping with its racing style, and for comfort on the wrist.
Clockwork Synergy Slate Gray Two-Piece NATO with PVD Hardware (clockworksynergy.com)
Serviced 11/3/17
sold out