1972 JDM Seiko 6138-0020 5 Sports Speed Timer "Tokei Zara"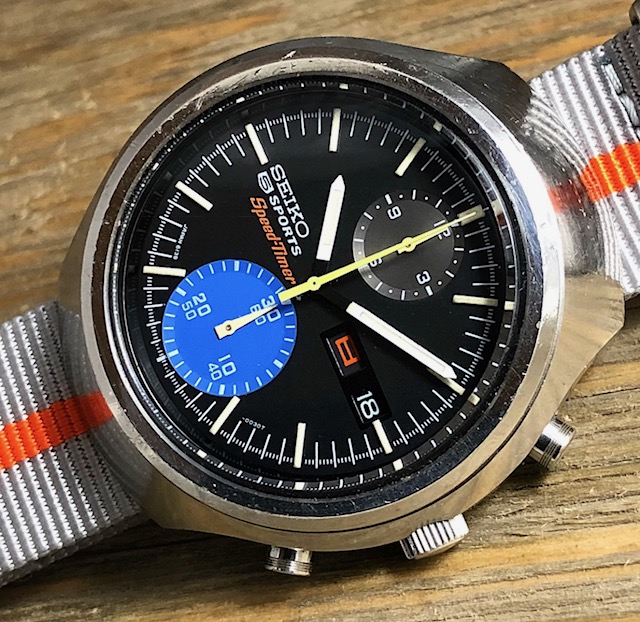 1972 JDM Seiko 6138-0020 5 Sports Speed Timer "Tokei Zara"
The "Tokei Zara" or "Fujitsubo" is named for its shallow bowl shaped case. Much like the 6139 helmet model, the case is conical with a flared hooded lug on either side, but how this watch came to be named for anything other than this hypnotizing dial is beyond me. We kind of have a thing for blue and orange, so this one remains at the top of our short list. With no export counterpart, this "Tokei" from April of '72 is a vintage Seiko rarity. The case makes up very little of the overall appearance, and more or less serves as the perfect frame for the matte black dial and its contrasting sub registers. The hours are counted on a smaller graphite colored register, and the minutes, on a booming baby blue. The darker orange "Speed Timer" logo sits perfectly positioned at left center, and the minute and hour hands jump our in a stark white. Adding an additional touch of color, the chronograph hands are all finished in a soft yellow and contrast nicely with the blue and orange highlights. For us, this watch is a perfect orchestration of architecture and visual design. We've paired it with a premium steel gray NATO with an orange racing stripe that brings comfort and continuity. Unpolished, and keeping near perfect time post service, it is a wrist ready stunner that's sure to become a go to in any collection.
Ague Trading Co. Premium Steel Gray NATO with Orange Stripe (aguetradingco.com)
Serviced 2/6/18
sold out