1967 Seiko 6216-9000 Seikomatic 39j "Baby Grand"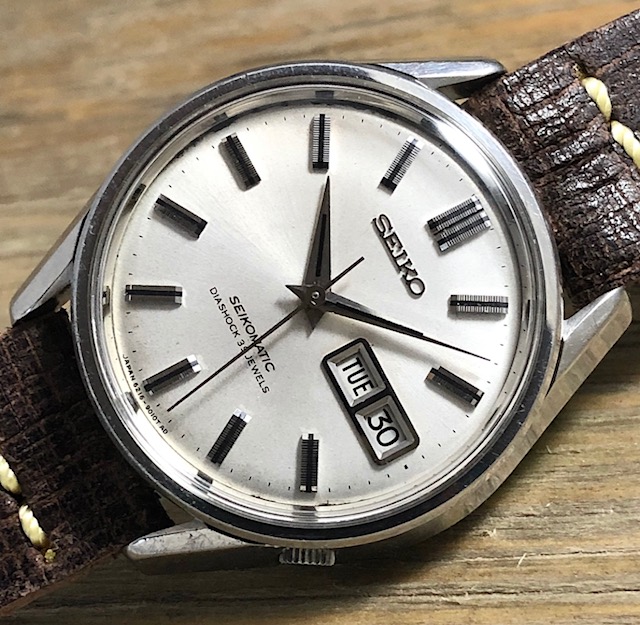 1967 Seiko 6216-9000 Seikomatic 39j "Baby Grand"
The 6216-9000 is a rare gem from the Seikomatic line up that has become nearly impossible to own, and the examples that do become available are almost never well preserved. The dial is exactly what you'd expect from the flagship of the Seikomatic line. A lacquered satin silver sunburst with finely detailed applied markers and just two lines of neat text. The beveled dauphine hands are broad with black inlay through the center. The polished bezel provides a perfect frame, and the unpolished case is a perfect combination of flat surfaces and sculpted contours. The case back is instantly recognizable, and appears as though it were designed for a GS model. The markings are deeply engraved and at center is the relief of a crown, the Seiko logo, and the dolphin that signifies a water proof automatic. Driving the hands is Seiko's Cal. 6216. A carbon copy of the 6246 Grand Seiko Chronometer movement, it features a whopping 39 jewels, cog wheel fine adjuster, and hums along at a rate of 19,800 bph. The only difference is the level of fine tuning done during assembly, and the GS branding on the rotor. This example from September of '67 is just stunning. The dial catches every ray of light and every passing eye. A truly historic piece, and one that we won't likely have the opportunity to offer again soon. On dark brown distressed leather for a classic finish, it's sure to be a fast favorite in any collection.
Clockwork Synergy Dark Brown Distressed Leather with Reverse Stitch (clockworksynergy.com)
Serviced 1/26/18
sold out