1971 JDM Seiko 6138-0020 5 Sports Speed Timer "Tokei Zara"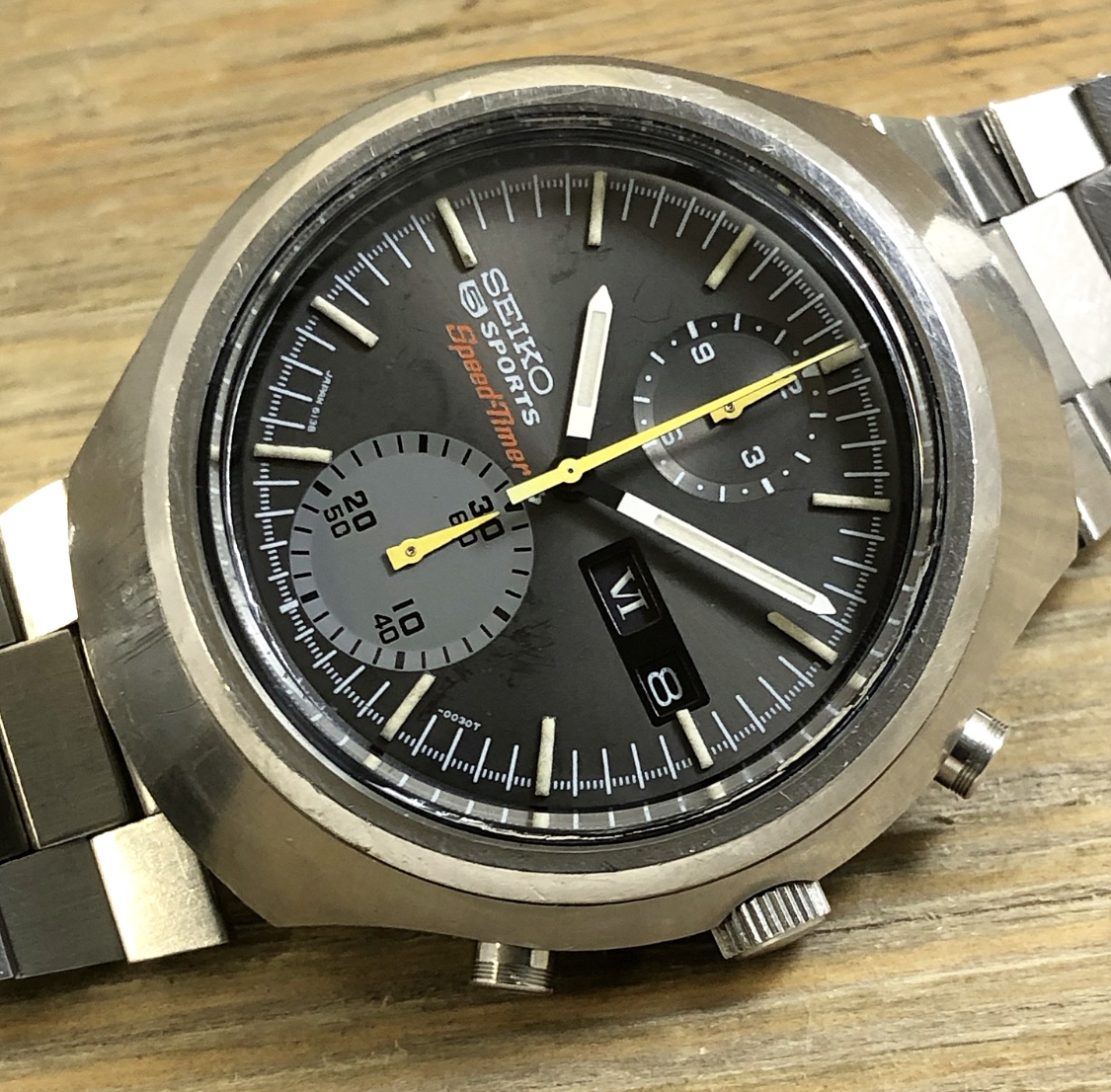 1971 JDM Seiko 6138-0020 5 Sports Speed Timer "Tokei Zara"
The "Tokei Zara" or "Fujitsubo" is named for its shallow bowl shaped case. Much like the 6139 helmet model, the case is conical with a flared hooded lug on either side, but how this watch came to be named for anything other than this hypnotizing dial is beyond me. A beautiful balance of graphite sunburst and matte gray contrasts perfectly with the fiery orange of the "Speed Timer" logo and bright yellow chronograph hands. The dial is fantastic overall, though a few light wear marks are visible. They are only superficial, and do not break the color surface. The hour and minute hand are a bright white and easily legible at a glance. The hour markers still boast their original luminous material, which has developed a fantastic khaki patina that is even throughout. The case is crisp and unpolished, and comes attached to the original and much rarer "Stelux" Speed Timer bracelet. It's a flat three-link design that's tapered to seamlessly attach under the hooded lugs. With no export counterpart, this "Tokei" from August of '71 is a vintage Seiko rarity originally only offered for the Japanese domestic market. For us, this watch is a perfect orchestration of architecture and visual design. The 6138 behind the case back is keeping near perfect time post service, and the chronograph functions are sharp and responsive. Sure to be a fast favorite, this amazing example is completely original aside from a replacement crystal, and we're betting you won't come across a nicer example any time soon.
Original Seiko "5 Sports" Stelux Bracelet in Stainless Steel
Serviced 6/2/19
Diameter- 42mm
Lugs- 20mm
sold out